Shooters World Precision Rifle S062 Smokeless Gun Powder
Shooters World Precision Rifle S062 Smokeless Gun Powder, Precision Rifle propellant has a similar burn rate and temperature sensitivity as Hodgdon VARGET. Temperature sensitivity, burn rate, and propellant density are all strongly related to VARGET's properties. However, testing shows that velocity variation outperforms VARGET at both ambient and high temperatures. Those looking for improved precision should profit from this feature. Precision Rifle features a burn rate that allows it to be used in a variety of centerfire rifle cartridges.
Despite being an extruded propellant, Precision Rifle has good flow characteristics through a volumetric powder dump. The grain is short and thin. While some reloaders insist on weighing each powder charge, when loading for precision with this propellant, that extra time is often not required.
Shooters World Precision Rifle produces almost little muzzle flash due to its clean burn and integrated flash suppressor. Precision Rifle is an Explosia bulk and Lovex canister propellant S062.
Warning About Smokeless Powder:
Do not exceed the loads displayed in the reloaders guide
Never mix any two powders regardless of type, brand, or source
Never substitute any smokeless powder for Black Powder or any Black Powder substitute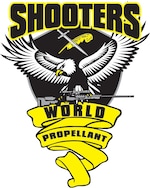 Shooters World Precision Rifle Powder Specifications
Product Information
Delivery Information
| | |
| --- | --- |
| Shipping Weight | 8.300 Pounds |
| DOT-Regulated | Yes |
| HazMat Product | Yes |