Shooters World Ultimate Pistol D036-07 Smokeless Gun Powder
Shooters World Ultimate Pistol D036-07 Smokeless Gun Powder propellant has no direct equivalent in reloading powder. It has a higher burn rate than Accurate No.5, but a lower burn rate than Accurate No.2.
This propellant has been designed and tested to function with both lead-free and conventional lead styphnate primers. Because of its unusual ability to ignite well with lead-free primers, Shooters World, LLC distributes this propellant.
It is possibly the most adaptable of all handgun propellants on the market. Calibers include the 380 Auto, 9mm Luger,.40 Smith and Wesson,.38 Special,.38 Super, and.45 Automatic.
In terms of competition, this propellant has a burn rate similar to Winchester Autocomp. Autocomp, on the other hand, has a burn rate modifier that can make dependable and consistent ignition difficult.
The D036-07 burn rate modifier is included inside the propellant grain and will give more reliable ignition and velocity consistency than other propellants of this burn rate.
This propellant's gas generation rate should allow 9mm Luger,.380 Automatic,.45 Auto,.38 Super, and.40 S&W loaders to achieve "self defense" velocities while maintaining reasonable pressure levels.
As a spherical propellant, it meters through charge plates consistently and works well with a high-speed loader. It does have a flash suppressor level.
Warning About Smokeless Powder:
Do not exceed the loads displayed in the reloaders guide
Never mix any two powders regardless of type, brand, or source
Never substitute any smokeless powder for Black Powder or any Black Powder substitute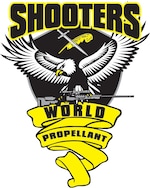 Specifications
Product Information
Delivery Information
| | |
| --- | --- |
| Shipping Weight | 8.300 Pounds |
| DOT-Regulated | Yes |
| HazMat Product | Yes |